What is Multiple Factor Security and why is it important?
Blink uses more than one method of verifying your information and preventing unauthorized access to your account. We call this Multiple Factor Security.
With just a password, someone might be able to guess yours and have total control of your account and see through your devices. With a password and even one additional step your security improves dramatically.
Using email and SMS Text message, we make sure that account changes are authorized. If you have questions or wish to change your account preferences, please contact support.
Jump to section: How is a new account validated and authenticated?
Can I turn off Multiple Factor Security?
When you login, an option appears to "Trust this device", which stops the need to authenticate every time.



How does Blink protect my account?
In addition to enforcing strong passwords, we verify your email account, we validate each login with a security code sent by text message, we notify you of major account changes, and we include biometric security features of your device into our app.
We even take this one step further by hiding all of your personal account details from Blink employees. When you contact support, the agent asks you to grant temporary permission from the Account Management screen of the Blink app. Click to learn more about granting support access.
What is SMS Text message validation?
We use SMS Text message to quickly determine that the account owner authorizes every login. We send a six digit number, which you enter into the Blink app, to gain access. In some cases we use Text message to verify an important account change.
What if I want to use a landline for my account?
You can use your landline telephone for account validation. Blink provides an option to have the PIN number read to you by an automated voice call, so you are not limited to mobile phones. 
Blink ONLY uses this number to ensure the person making changes is you. Your information is private, it will not be used for additional purposes, or shared with third parties.
What is Email verification?
To ensure that your account email address is correct, and that you have access to it, we send a PIN number through email. You must enter the number in the app screen before you are allowed to continue.
How do I use the security code?
Once any number-based verification begins, the Blink App shows a number entry screen until an entry is made. Access to the Blink App is blocked until you enter the security number code we send you.
The security code is valid for 40 minutes. After 1 minute, you can re-send the current number, and after 40 minutes you can get a new security code.
If you entered the security code correctly within 40 minutes of starting a verification, and the Blink app is still preventing you from entering, please contact customer service so we can troubleshoot with you directly.

How is a new account Validated and Authenticated?
When you create a new Blink account, you are asked to enter an account email address and create a unique and strong Blink password. 
This email account is our primary way of communicating with you, so we need to know it is working and that you have access to it. We send you an email with a security "verification PIN" and information about the device that was used to start the process. (example below)
In the Blink app, a Verify Email screen appears where you enter the verification PIN.
Example email:
Welcome To Blink
Please enter the verification code below in your app now to confirm your email address and complete the setup process:

Your verification PIN:
<123456>
Device: <your device>
Device Name: <your device name>

This code expires 40 minutes from when it was sent. If the code is not entered, access to your account from the device will not be granted.
If you'd like more information or assistance please view our FAQ or contact Customer Service.
Thanks, 
The Blink Team
Enter the PIN from the email we sent you and tap "Verify".
| | |
| --- | --- |
| | |
| New Account PIN | New Account with Expired PIN |
PIN codes are valid for 40 minutes. After one minute, the "Resend PIN Code" option appears.
When you have verified your email address, the app configures your SMS text phone number to send alerts and for account verification.

When you are presented with a Phone number entry screen, tap the
Phone number

entry line to bring up a keypad.

Select your country code from the menu that is displayed when you tap the flag icon next to the Phone number entry line.

Enter the phone number you wish to use for device verification and tap "Next".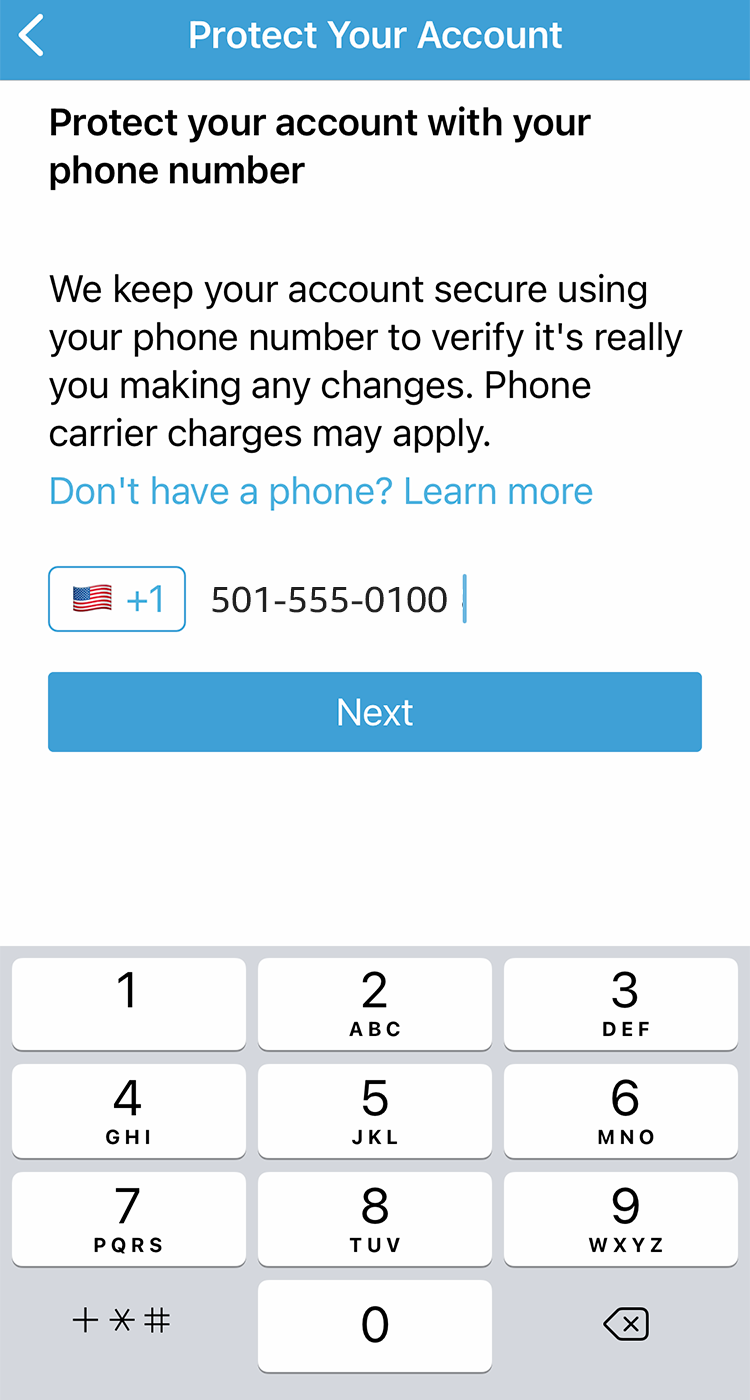 If you prefer to not use SMS, the PIN code can be read to you by an automated Voice call instead.
To choose this option, select "Voice call" and tap "Next".
Note: The SMS text option should only be used with mobile phone lines and will not work with landlines. Blink ONLY uses this number to positively associate your device to the Blink app - to make sure the person making changes is you. Your information is private and will not be used for additional purposes or shared with third parties.
Click to learn why we need your phone number. Contact Customer Service if you don't have a phone number.
At this point, an SMS Text message containing the PIN code is sent to the phone number, and the PIN entry screen is opened for you.
Example SMS Text Message:
Your Blink verification code
is: <123456>
Enter the PIN from the SMS Text message we sent you and tap "Verify".
PIN codes are valid for 40 minutes. After one minute, the "Resend PIN Code" option is presented.
| | |
| --- | --- |
| | |
| Verify SMS PIN | Verify with PIN |
When the verification step is complete, you are prompted to link your new Blink account to your Amazon account, by tapping on the "Link Accounts button". This is an optional step. Click to learn how to link your accounts at a later time.
You also have the option to select "Skip" which will take you to the home screen, without linking your accounts.

Then sign into your existing Amazon account or create a new one if needed. The link is then established between accounts and click Next.