At Blink, we take action to ensure your products are only accessed by authorized persons.
Personal Data protection
One way we protect your information is to hide your account details until you give permission for a support agent to have access.
Email confirmation
Another security action we take is sending you an email when important events take place.
Account security emails are sent from "no-reply@blinkforhome.com", they are authentic, and meant to provide peace of mind. If you have any questions or concerns, please contact Blink Technical Support.
The following events send a message to your Account email address:
A new device logs into your Blink account – Any new phone or tablet accessing your Blink account generates an email describing the device.
Blink System deleted – The email includes the deleted system name.
Sync Module deleted – When a Sync Module is deleted, the email includes the Serial Number and the name of the system it was attached to.
Camera Deleted – When a camera is deleted, the email includes the name of the deleted camera and its serial number.
Account Deleted – When an Account is deleted, an email is sent to you describing this action.
Email Change – When an Account email address is changed, an email message is sent to the original address describing this action.
Forgot Password – "Forgot Password", is treated as a password reset request. When this action is initiated, an email is sent to your account containing a Password Update link that is valid for 24 hours only.
After Password Change – When your Account password change is completed, an email is sent to you describing this action.
New Account Creation – New user accounts created in the Blink app require an email verification process described below:
Enter the PIN from the email we sent you and tap "Verify".
| | |
| --- | --- |
| | |
| New Account PIN | New Account with Expired PIN |
PIN codes are valid for 40 minutes. After one minute, the "Resend PIN Code" option appears.
When you have verified your email address, the app configures your SMS text phone number to send alerts and for account verification.

When you are presented with a Phone number entry screen, tap the
Phone number

entry line to bring up a keypad.

Select your country code from the menu that is displayed when you tap the flag icon next to the Phone number entry line.

Enter the phone number you wish to use for device verification and tap "Next".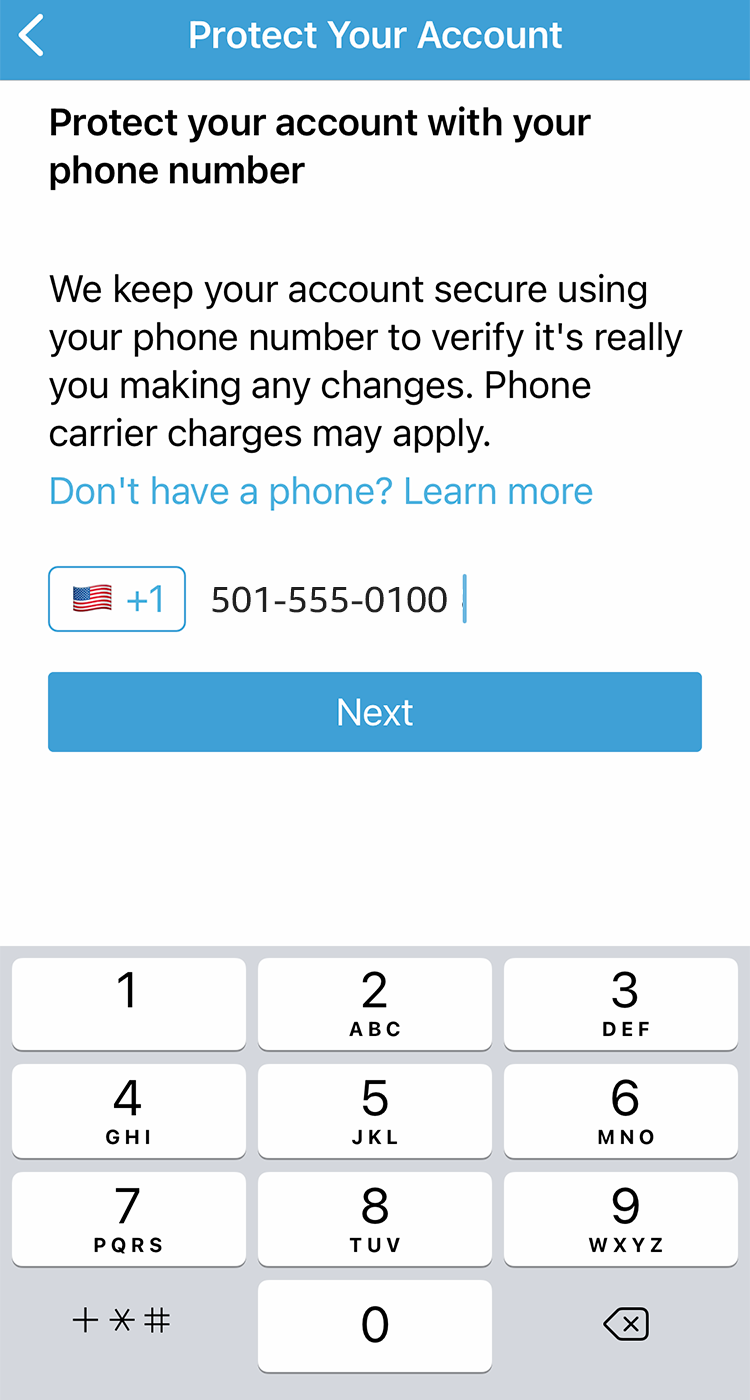 If you prefer to not use SMS, the PIN code can be read to you by an automated Voice call instead.
To choose this option, select "Voice call" and tap "Next".
Note: The SMS text option should only be used with mobile phone lines and will not work with landlines. Blink ONLY uses this number to positively associate your device to the Blink app - to make sure the person making changes is you. Your information is private and will not be used for additional purposes or shared with third parties.
Click to learn why we need your phone number. Contact Customer Service if you don't have a phone number.
At this point, an SMS Text message containing the PIN code is sent to the phone number, and the PIN entry screen is opened for you.
Example SMS Text Message:
Your Blink verification code
is: <123456>
Enter the PIN from the SMS Text message we sent you and tap "Verify".
PIN codes are valid for 40 minutes. After one minute, the "Resend PIN Code" option is presented.
| | |
| --- | --- |
| | |
| Verify SMS PIN | Verify with PIN |
When the verification step is complete, you are prompted to link your new Blink account to your Amazon account, by tapping on the "Link Accounts button". This is an optional step. Click to learn how to link your accounts at a later time.
You also have the option to select "Skip" which will take you to the home screen, without linking your accounts.

Then sign into your existing Amazon account or create a new one if needed. The link is then established between accounts and click Next.
From here you can start adding devices such as a Sync Module or cameras by tapping on the + icon in the top right of the screen.