Le videocamere e i dispositivi Blink sono controllati tramite la nostra app mobile Blink . Dopo aver scaricato l'app per il tuo dispositivo, devi creare un account Blink e quindi verificare il tuo indirizzo email.
I sistemi e le impostazioni di Blink sono collegati al tuo account Blink , consentendoti di accedere al tuo account Blink da altri dispositivi mobili o di condividere l'accesso all'account con persone di cui ti fidi. Scopri di più
The most recent version of the Blink app is always available in your app store.
Blink supports most smartphones, tablets, and many Alexa enabled products.
Follow the link or scan the QR code to access the most recent Blink app download.
*If you can't locate the Blink app iOS 6.15.0, please refer to this article: End of Support for Android Version 5 - iOS Versions 12 and 13
To get started with the Blink app, follow the instructions below:
1. Launch the Blink App and tap Create Account at the bottom of the screen.

2. Select your country from the drop-down menu and tap Next.
3. Confirm your region and tap OK.
A region is preselected based on your IP address.
4. Enter a valid email address, and tap Next.
5. Create a password and tap Create Account.
    The password requirements are listed at the bottom of the screen.

6. Complete the multifactor account verification process.
Enter the PIN from the email we sent you and tap "Verify".
| | |
| --- | --- |
| | |
| New Account PIN | New Account with Expired PIN |
PIN codes are valid for 40 minutes. After one minute, the "Resend PIN Code" option appears.
When you have verified your email address, the app configures your SMS text phone number to send alerts and for account verification.

When you are presented with a Phone number entry screen, tap the Phone number entry line to bring up a keypad.
Select your country code from the menu that is displayed when you tap the flag icon next to the Phone number entry line.

Enter the phone number you wish to use for device verification and tap "Next".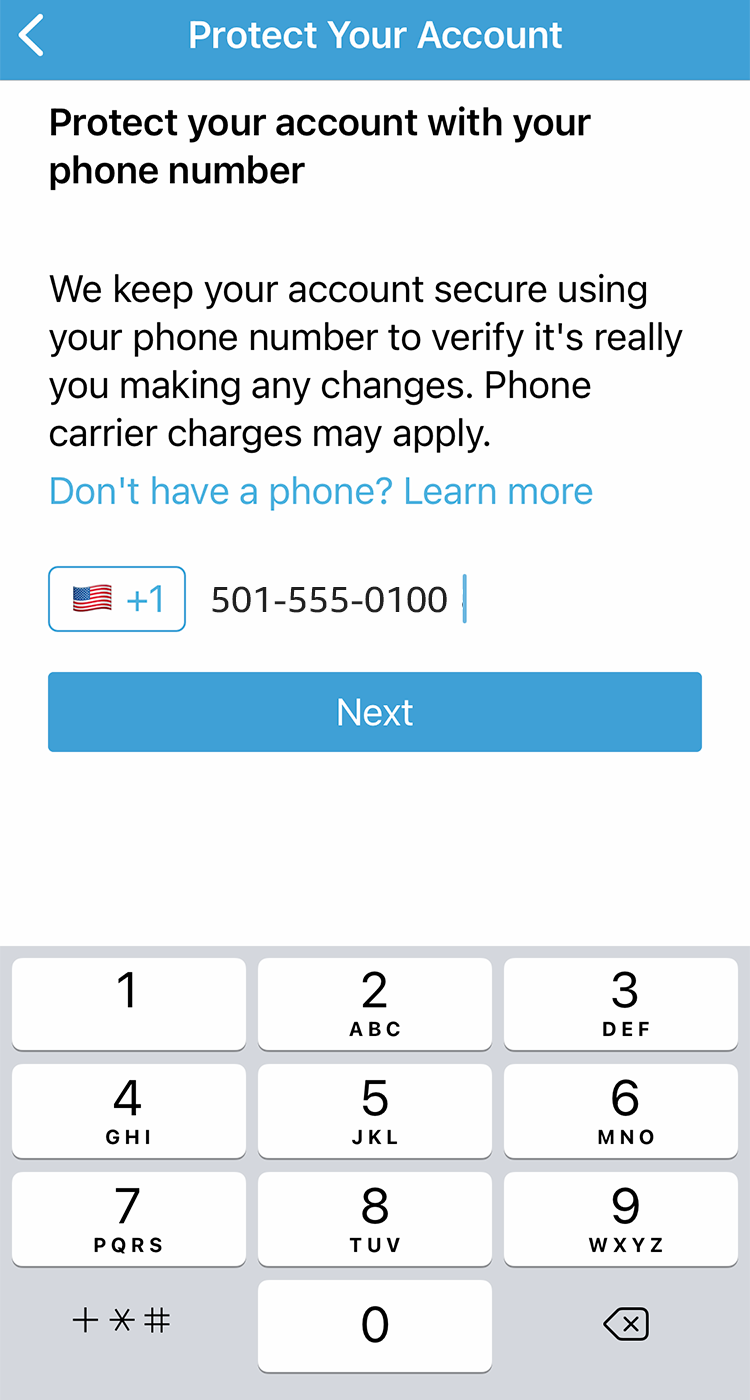 If you prefer to not use SMS, the PIN code can be read to you by an automated Voice call instead.
To choose this option, select "Voice call" and tap "Next".
Note: The SMS text option should only be used with mobile phone lines and will not work with landlines. Blink ONLY uses this number to positively associate your device to the Blink app - to make sure the person making changes is you. Your information is private and will not be used for additional purposes or shared with third parties.
Click to learn why we need your phone number. Contact Customer Service if you don't have a phone number.
At this point, an SMS Text message containing the PIN code is sent to the phone number, and the PIN entry screen is opened for you.
Example SMS Text Message:
Your Blink verification code
is: <123456>
Enter the PIN from the SMS Text message we sent you and tap "Verify".
PIN codes are valid for 40 minutes. After one minute, the "Resend PIN Code" option is presented.
| | |
| --- | --- |
| | |
| Verify SMS PIN | Verify with PIN |
When the verification step is complete, you are prompted to link your new Blink account to your Amazon account, by tapping on the "Link Accounts button". This is an optional step. Click to learn how to link your accounts at a later time.
You also have the option to select "Skip" which will take you to the home screen, without linking your accounts.

Then sign into your existing Amazon account or create a new one if needed. The link is then established between accounts and click Next.