To move your system to a new location or Wi-Fi network, you will reconfigure the Sync Module for its new network. You may also have success in a new location if you use the exact same Wi-Fi configuration, but performance is not guaranteed. It is usually best to reconfigure the Sync Module for the new network.
This procedure requires direct communication between the phone app and the Sync Module. Both must be active and on the same Wi-Fi network. To complete this procedure, you must be physically with your system and have your sync module plugged into a power supply.
Saved clips are not deleted when you reconfigure the Sync Module Wi-Fi network.

To start, tap on the gear icon in the bottom row of the app to enter Settings and select Device and System Settings. Then tap on the name of your system under Systems.


Tap on Sync Module to see the status screen, and tap "Change Wi-Fi Network".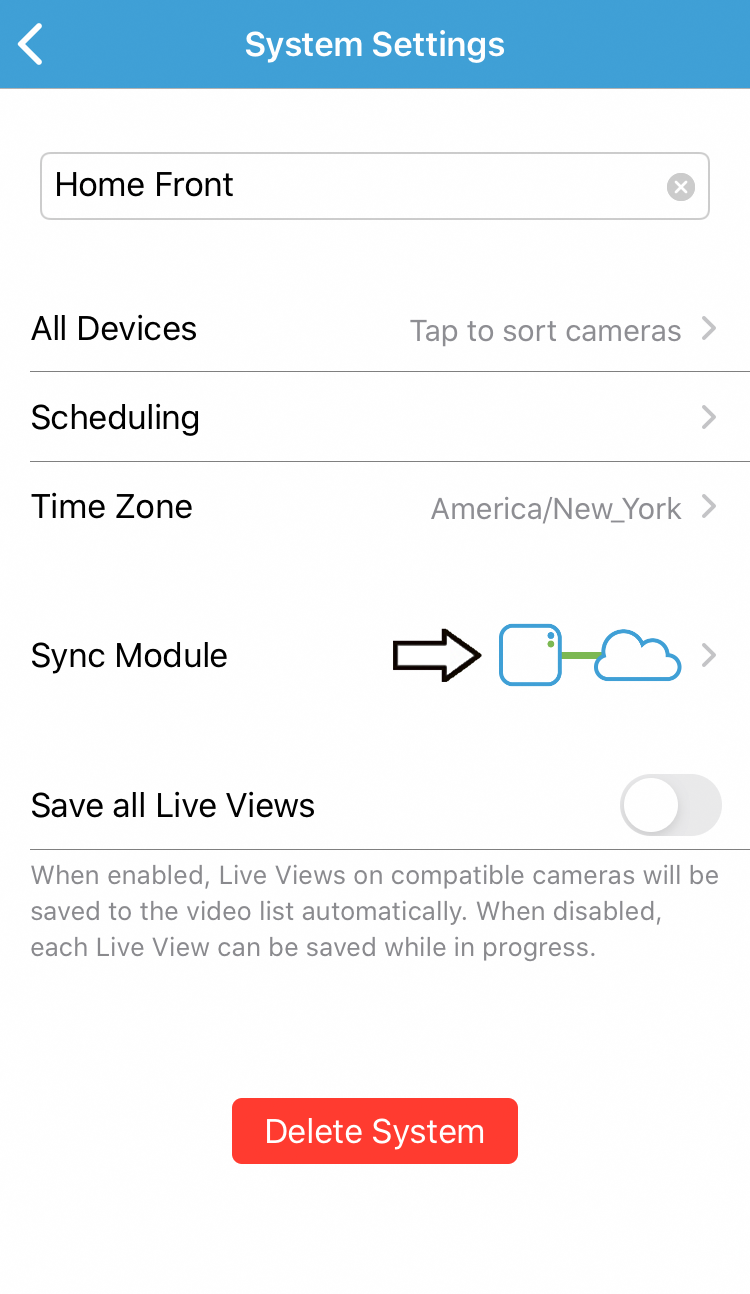 At this point, you are presented with a Change Wi-Fi screen and a Sync Module graphic illustrating a blinking blue light above a steady green light.

Follow the screen instruction to press the Reset button. Use a thin object to gently press and release the button, located within a recess on the side of the Sync Module. It appears as a small hole in the case as shown in the image below.

When the lights match a blinking blue and solid green pattern, then press Discover Device and you are asked to join the Sync Module Wi-Fi network.
Tap Join, and then select your Wi-Fi network from the available choices.

Carefully enter your Wi-Fi password and tap Join on your keyboard.
*You will be asked to provide a code before running the test. Enter in the code "BLNK".
Shortly after that, you'll receive a message saying "Sync Module added!".  Once you receive that message, tap Done.
You'll now be able to use your system normally again.