This article describes how to set an automatic schedule to Arm and Disarm your Blink system.
Create a schedule
To get started, open up the Blink app and tap Settings in the bottom right of the home screen and select Device and System Settings.

Next, select the system you want to schedule.
A system is a compilation of one or more cameras. When multiple cameras are added to the same system, they are linked together so that when you arm your system, all of the cameras in that system will arm at the same time.




To ensure that your system arms and disarms at the correct times, make sure your time zone is set correctly.

Next, tap Scheduling.



On the Weekly Schedule screen, create your schedule. Tap in the top right of the screen.



By default, Arm will be enabled and the toggle on the right will be set to AM.


Schedule Arming: First, set the time and day you want to set your schedule arming. Drag the clock hands to your desired time. Time is changed in 15 minute increments. Select the desired days located at the bottom of the screen. When you're done, tap Save to set the scheduled arming and you are taken back to the Weekly Schedule screen.




Schedule Disarming: Next, set the time and day you want to set your schedule disarming. In the example below, the week schedule is highlighted in blue because the the disarm time has not been set. Tap the again to set disarm schedule.


Disarm scheduling is done in the same manner, but you will want to switch the toggle on the left to Disarm. Drag the clock's hand to your desired disarm time and select the days of week again. Once you have your disarm schedule set to your desired time, tap the Save button again.


Your schedule is now set.

---
After your schedule is set
Modify existing schedule
You can modify saved schedules by tapping on the arm and disarm toggles and setting new days or times.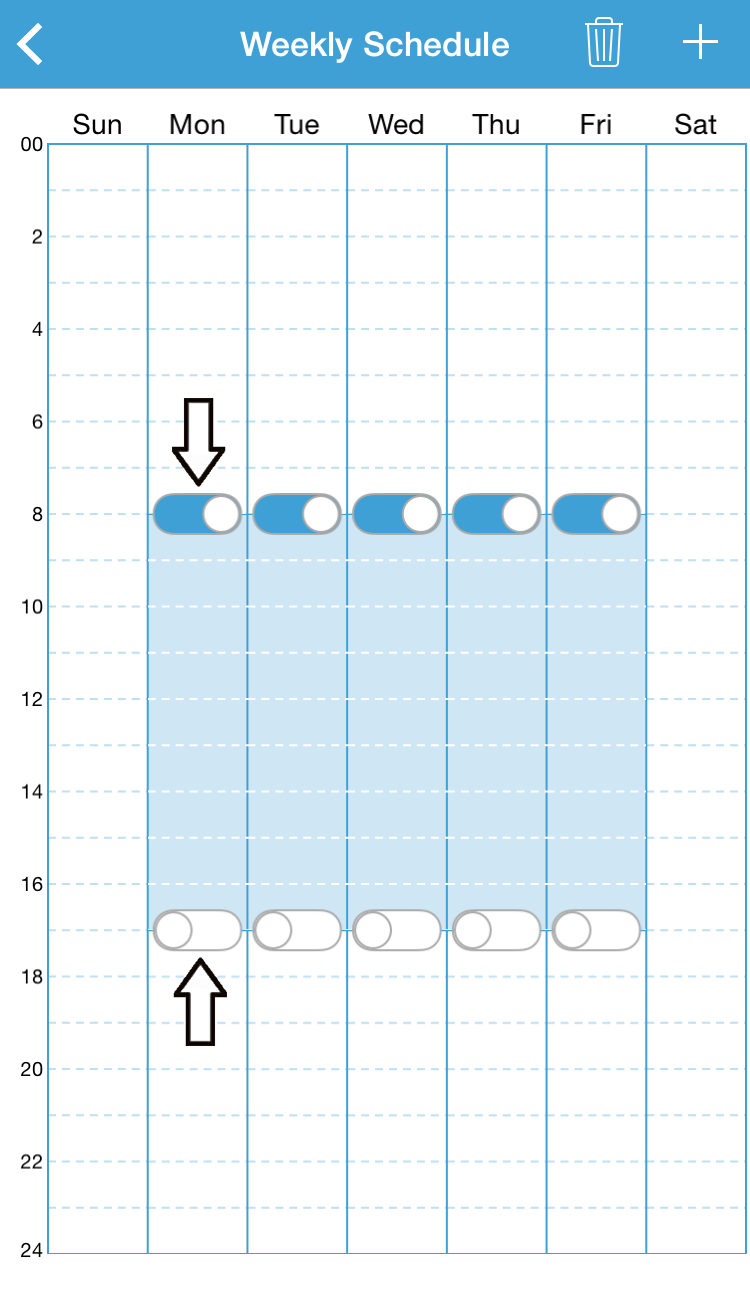 Disable Switch
If you want to temporarily disable your schedule (Example: You're going on vacation), you'll now see a disabled toggle on Scheduling in the System Settings menu. Enabling this switch this will disable your schedule until you turn it off.

Delete schedule
To delete your schedule, go back into your schedule view. Tap the trash can icon  to delete the schedule.


You'll be asked to confirm. Tap Yes.

Note: Scheduled arming and disarming of your system will override any manually set or IFTTT or Alexa triggered arm and disarm settings. 
In order to record motion events, you must have motion detection enabled for a specific device by tapping on the Running Man icon from the home screen or enabling motion detection in the device's setting screen. Learn more about understanding motion detection.