The Sync Module is plugged into an electrical outlet to relay commands and network details to devices in the system it manages. Blink cameras enjoy longer battery life because the Sync Module is always available.
Each system is visible in the Blink app, and can have up to ten devices attached. When a system is armed, all of it's devices act according to their settings.
Blink devices need an always-on 2.4 GHz Wi-Fi internet connection with at least 2 MB per second of upload speed (from your network to the internet).
The Sync Module 2 has an active USB-A port to store up to 256 GB of motion clips on your own drive. Click to learn more about Local Storage. Eligible cameras are Blink Video Doorbell, Outdoor, Indoor (gen 2), and Blink Mini. Motion clips in Local Storage are viewed in the Blink app.
    Back of the Sync Module 2


QR code and Serial Number
USB-A storage port
Reset button
Micro USB 5v DC power
Local Storage automatically begins saving clips to the USB drive unless you are on a Blink Subscription Plan. On a subscription or trial, your clips save to cloud storage, and a once-daily clip backup from eligible cameras saves to the USB drive. Clip backups in Local Storage are only viewable from the USB drive directly when you move it to your computer. Click to learn about how to access Clip Backups on Your USB Drive‍.
The original Sync Module (image below) has a USB port that was meant for testing only. If you insert a USB drive, no clips will be saved. The original Sync Module is compatible with all Blink cameras and supports the Blink Subscription Plans. Learn more about subscription plan benefits. Click to learn about the trial subscription that comes with every new camera purchase.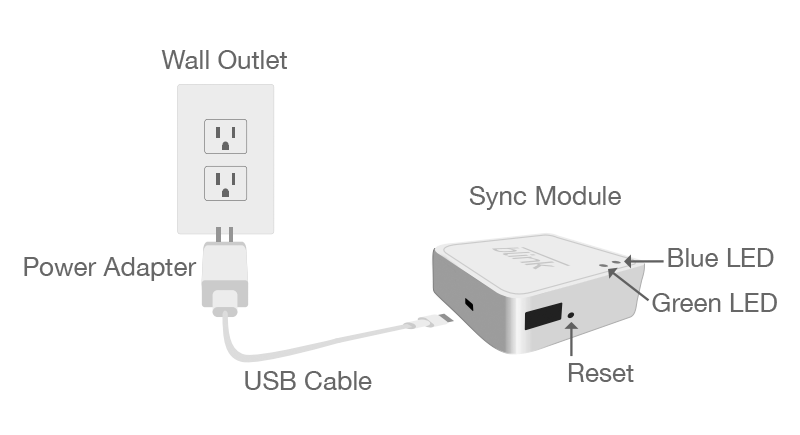 Note: Blink Video Doorbell and Mini cameras manage their own system. They can also be added to a Sync Module managed system, or added together without a Sync Module.
Click to visit the Sync Module purchase page at Amazon.com.
Click to troubleshoot a Sync Module that is offline‍.